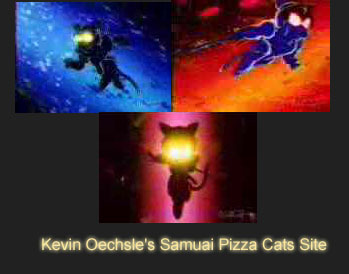 Home   Good Guys  Bad Guys   Other Characters   Theme Song Lyrics 
Welcome to the Amazing Pizza Cats site hosted by me Kevin Oechsle
The Pizza Cats if your wondering were a cooky little anime cartoon that ran in the early ninties on Fox 29.
It is about three superhero cats that run a pizza parlor and save the city of Little Tokyo from the corrupt Big Cheese (a bit rat).
This show is jam packed with bad puns lame jokes and overall fun, unfortuanatly it is no longer on the air and is unavailable on VHS or DVD.
However the Pizza Cats will live on in the hearts of it's fans and will always be a fun cartoon!