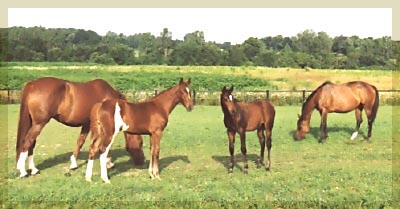 We started breeding Dutch Warmbloods in 1977 and established Stonegate Ranch in 1984. It has taken a number of years to find a good group of mares, but with patience and determination we have done it. All of our mares have star quality or better and are proven producers.
We have and will continue to travel to Holland to keep up on the latest breeding information and to see the top young stallions and mares. We have been using frozen semen for the last 4 years to help ensure that our mares are being bred to the stallion that is best suited for them. By starting with top breeding mares and stallions you are increasing your chances of raising high quality foals. Not every foal can be a super star but with good bloodlines every foal can be a nice show horse.
To produce the best young prospect you must also be tuned in to all the needs of the youngster and the mare. It has taken us a long time to research all the feeding programs but it was worth it.
Another important feature with a breeding farm is that the foals get handled so they learn to trust people. We handle our mares and foals daily and work with them on the basics that every horse needs to know.... being tied, standing for the farrier, bathing, clipping, and trailering.
We believe that being riders ourselves helps us as breeders. We can then tell if the mare is producing offspring that are nice riding horses with good temperaments. We do all the training ourselves from first born to well established show horse.
If you have any questions about Dutch horses, breeding or training the youngter we would be happy to help. We always enjoy visitors on the farm. If you would like to make an appointment to see our farm and visit Arthos and the mares and foals drop us an email or call us at (435) 477-3812.
Patty Arnett
Chris Schneider